A Whole New Level
of Professional Training

Join our world class instructors at this one of a kind facility for your next Wireless LAN Professionals training.
---
The Titan Ranch is a reclaimed and remodeled decommissioned Titan II Nuclear Missile Silo outside of Little Rock, Arkansas. This is a venue like none other and a learning experience you will not forget.
From 1960 to 1962, 54 Titan II missile complexes were under construction to house the largest ICBM in United States history.
The Titan II served as the lead deterrent in the Cold War for over 20 years before being retired in 1987. At that time the Titan II missile complexes were imploded and sealed, never to be opened again.
Or at least that's what they thought…
On October 13th 2010, the first Titan II in Arkansas was reopened.
After thousands of hours of work and battling many challenges, the Titan II Missile Complex is now a state of the art facility for training, meetings, events and team building.
Some of the activities you'll take part of during your time…
When you take a Wireless LAN Professional course at the Titan Ranch, you'll spend time in between sessions immersing yourself in several unique and fun activities.
---
Overview of Wireless LAN Professional Courses
We at Wireless LAN Professionals have been teaching CWNP, AirMagnet, Cisco, Aruba, Ruckus and other Wireless LAN classes for nearly two decades. We decided to launch our own set of public-accessible classes in 2019. These include some of the most popular classes we've seen in this community – ECSE, CWAP, CWNA etc.

We have put together world-class instructors, with world-class curriculum, and now in a totally unique and enjoyable venue. You've seen how we do the #WLPC (Wireless LAN Professional Conference) now you can experience the same high caliber training – but in an entirely new way!

Be one of the first to receive training at our WLAN Professionals sponsored courses at Titan Ranch.

ECSE – CWAP – CWNA – Wireless Pen Testing – Python for WLAN
---
---
Ekahau ECSE
Instructor:
Keith Parsons
Student Kit:
Survey Tray, GPS, Fluke Laser Rangefinder, WLANpi, PoE cable, USB Case, EDC
---
CWNP – CWAP
Instructor:
Peter Mackenzie
Student Kit:
CWAP Study Guide, Practice Tests, & Exam Voucher, 2X USB NICs for Omnipeek
---
CWNP – CWNA
Instructor:
GT Hill
Student Kit:
CWNA Study Guide, Practice Tests & Exam Voucher – WLANpi, PoE Cable
---
Python for WLAN Pros
Instructor:
Jake Snyder/Ryan Adzima
Student Kit:
Intel NUC, RAM, SSD, Python 3 the Hard Way Book
---
Wireless Pentesting, Hacking & Defense
Instructor:
Phil Morgan
Student Kit:
14″ KALI Linux Laptop, Travel Router, 3X USB NIC, USB Battery
---
What's included with each class…
Student Kit – (see details above)
All Transportation – Pickup & Drop Off at Little Rock Airport
Hotel Provided

All Food – Breakfast, Lunch, Dinner & Snacks
All Experiences – Wide range of outdoor & indoor activities
---
Titan Ranch – Sample 4-day Course Outline
---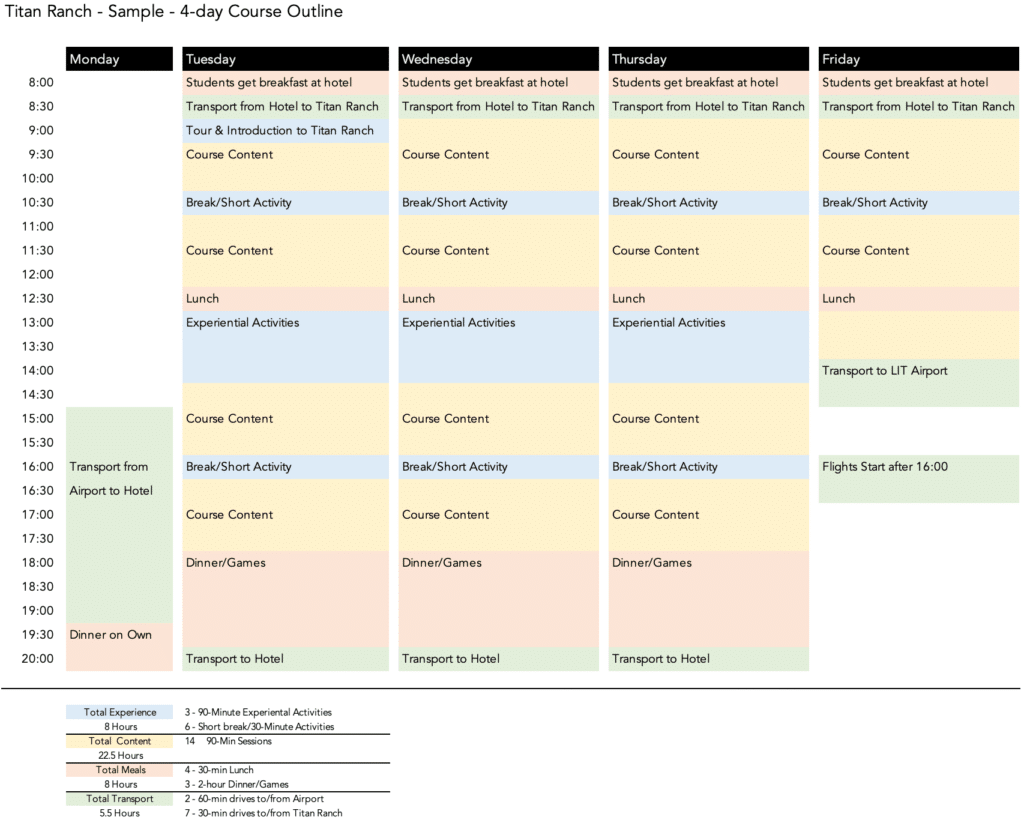 ---
2019 Course Calendar
Ekahau ECSE Course
Week 16
16-19 April
Ekahau ECSE Course
Week 32

6-9 August
Wireless Pentesting,
Hacking & Defense
Week 43
21-25 October
Ekahau ECSE Course
Week 46
11-15 November
CWNP – CWAP Course
Week 47
19-22 November
CWNP – CWNA Course
Week 50
10-13 December
Your 2019 Season Instructors
---
Jake Snyder
PYTHON FOR WLAN PROS
Ryan Adzima
PYTHON FOR WLAN PROS
---
---